Visitor Info
The International Conference on Application of Concurrency to System Design (ACSD) will take place at Hotel da Falperra, situated in a particularly quite and green neighbourhood between the towns of Guimarães and Braga, and providing participants with the ideal environment to discuss their ideas.
Accommodation
The organisation has pre-reserved a number of rooms at the conference Hotel (Hotel da Falperra). Accommodation requests for this and other hotels will soon be handled by Agência Abreu.
Please note that although the conference hotel is administratively part of Guimarães, it is much nearer from the town of Braga, from which it is easily accessible by bus or taxi. You should thus consider accommodation in Braga rather than Guimarães, in case you decide to stay in a hotel other than the conference hotel.
About the region
Braga and Guimarães are situated in the north-west of Portugal, aproximatelly 20 Km from each other and 45 Kms north of Porto. Braga is the capital of Minho's region. Guimarães is an historical town, strongly connected with the events that led to the foundation of Portugal in the 12th century. Its historical centre has recently been classified by UNESCO as a World Heritage.
Citânia de Briteiros is a pre-roman village 10 Km away. The Peneda-Gerês National Park is 20 Km to the north and offers outstanding landscapes to those willing to walk in the middle of preserved wild forests.
How to get there
The closest international airport is Francisco Sá Carneiro Airport in Porto (a.k.a. Oporto) situated about 35 km from Guimarães.
From the airport, the most practical and fastest way to reach the hotel conference is clearly by taxi. They are available just outside the airport terminal, they take about 45 minutes, and you should expect to pay about 50 Euros for the journey. As an alternative, it is possible to take a bus to the centre of Porto, then another bus or the train to Braga, and finally a taxi to the hotel.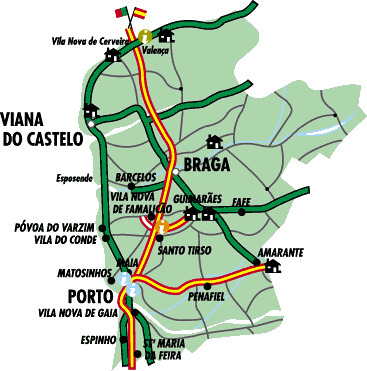 Useful links